Join 3000 patients who like us on Facebook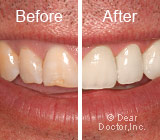 According to a recent Dear Doctor magazine survey, more than 80 percent of people are dissatisfied with their smile.
As you research options to improve your smile, you will learn that veneers may be the perfect solution for fixing esthetic imperfections.
We provide you with creative solutions to give you a new found confidence with your smile. Click here.
Whether your teeth are chipped, crooked, discolored, or have spaces between them, veneers can instantly transform your smile. Find out about ideal veneers.
So, what exactly are veneers?
Much like your home's surface becomes weathered and worn and requires a makeover with new siding, veneers can replace the surface of your teeth for an instant smile makeover.
Dental veneers are wafer-thin, custom-made shells of tooth-colored materials designed to cover the front surface of teeth to improve appearance.
Information regarding immediate/composite veneers.
These shells are bonded to the front of the teeth changing their color, shape, size, or length. With the latest dental technology, veneers can be made to look exactly like natural tooth enamel.
There are two main types of veneers, but porcelain veneers are the most commonly used technique. Read more.
Here's how the procedure works:
Most often, we will prepare the tooth for the porcelain veneer by removing a small portion of the surface enamel creating room for a new layer of porcelain.
We may apply a local anesthetic during this part of the procedure. Depending on your bite and tooth position, we may discuss whether no-prep veneers are the right course of treatment for you. No-prep veneers are slightly thinner than porcelain veneers and can be bonded over the top of your teeth with little or no drilling. Click here to find out more information in our Hertfordshire & London practices.
Next, we will make a model or impression of your tooth and work with a laboratory technician to create each veneer. This process usually takes about 1-2 weeks.
Finally you will return to us for the insertion or cementation of your veneers. This visit will be longer in length and again, may involve local anesthetic. We will place the veneers with a light-sensitive resin hardened with the use of a white light, effectively bonding them to your teeth. Find out more.
One thing to note: If enamel is removed, your treatment will not be reversible.
Check out how to prevent enamel erosion.
If you would like more information about veneers, please contact us to schedule an appointment for a Harley Street consultation and so we can see what treatment is suitable for you.