Bad teeth is usually an umbrella term to describe an array of oral health problems that usually affect a patient's confidence and self-esteem. It's not uncommon for our patients to suffer from any of the below problems, nor is it rare for patients to suffer from more than one.
As restorative and cosmetic dentists, we understand, more than most, how busy patients with bad teeth prefer to ignore the problem rather than deal with it. We get it; for most, it's embarrassing, and for others, they are worried about the total cost of repairing their smile, especially if there are a few problems they're dealing with.
But we've put this post together to put your mind at ease. Never be fearful of the dentist. We're not here to judge you but to help you, and trust us when we tell you we've dealt with thousands of bad teeth cases – usually very easily and quickly. So, find your "bad teeth" problem below and learn what we can do to improve and transform your smile.
*Treatments mentioned below, like veneers, can be used to correct several smile issues in one, meaning you don't need to undergo additional procedures to treat different issues with your smile.
Causes:
Poor oral hygiene
Food product staining
Smoking or ageing
Treatments:
Tooth whitening (one appointment)
Composite bonding or veneers (one appointment)
Dental veneers (3 appointments)
Costs:
Whitening from £260
Composite from £500
Veneers from £1,200 per tooth
Causes:
Too many teeth cause crowding
Tooth misalignment causes teeth to be uneven
Jaw shape and jaw size
Treatments:
Costs:
Metal braces from £2,000
Ceramic braces from £2,500
Invisible braces from £1,500
Lingual braces from £5,000
Dental veneers from £1,100 per tooth
See also protruding teeth.
Causes:
Trauma or impact
Poor oral health
Gum disease
Tooth grinding
Treatments:
Root and scaling hygiene appointment to treat gum disease
Dental bone grafts to rebuild bone in the jaw
Dental bridge for a lost tooth
Dental implant for a lost tooth
Partial denture for a lost tooth
Costs:
Hygiene appointments from £65
Dental bone graft from £500
Dental bridge from £1,200
Dental implant from £2,450
Partial denture from £350
Causes:
Worn enamel
Exposed tooth roots
Infection and decay
Treatments:
Root canal (one appointment)
Composite bonding (one appointment)
Surgical gum grafts (two appointments)
Fluoride treatments (one appointment)
Dental veneers (3 appointments)
Costs:
Root canals from £520
Composite bonding from £350
Surgical gum grafts from £500
Fluoride treatments from £56
Dental veneers from £1,100 per tooth
Causes:
Missing or undersized teeth
Oversized labial frenum
Gum disease
Size of teeth in relation to jawbone
Treatments:
Invisalign (3-6 months)
Composite bonding (one appointment)
Composite veneers (immediate)
Porcelain veneers (3 appointments)
Costs:
Invisalign from £1,500
Composite bonding from £350
Composite veneers from £500 per tooth
Porcelain veneers from £1,100 per tooth
Causes:
The size and shape of teeth
Gingival hypertrophy
Partial dental eruption
Genetics and anatomy
Treatments:
Costs: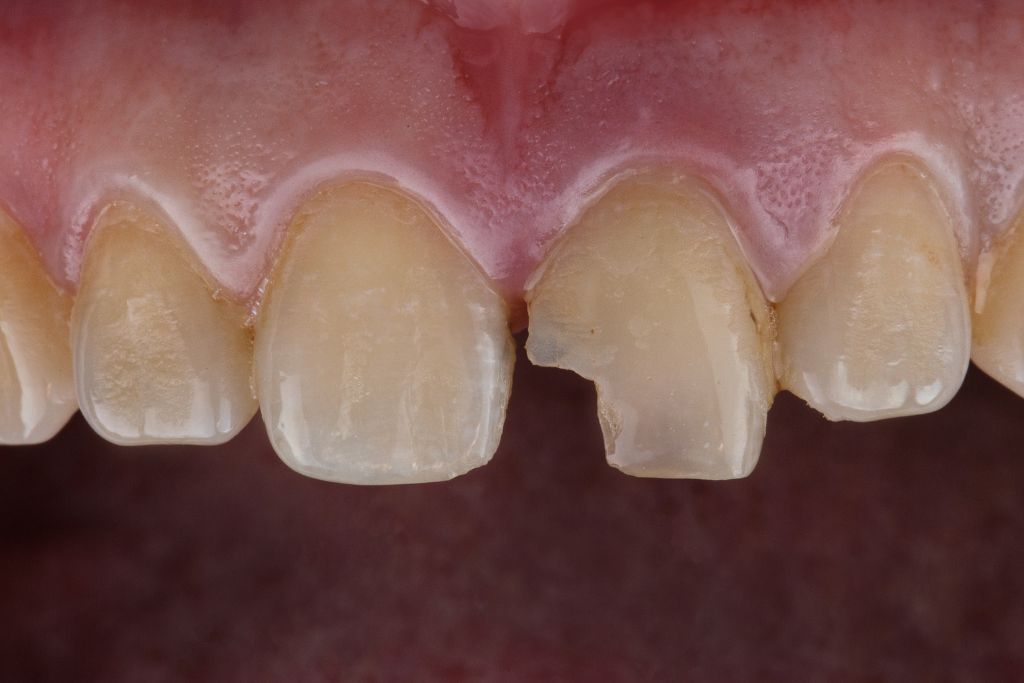 Causes:
Impact or trauma
Biting down too hard
Tooth grinding
Dental decay
Treatments:
Costs:
Composite bonding from £350
Composite veneers from £500 per tooth
Porcelain veneers from £1,100 per tooth
Dental crowns from £1,200
8. Heavily decayed teeth (or holes in teeth)
Causes:
Poor oral hygiene
Cavities and caries
Drinking sugary drinks
Plaque buildup
Treatments:
Composite bonding (same-day)
Composite veneers (immediately loaded)
Porcelain veneers (three appointments)
Dental crowns (same-day available)
Dental fillings (white available)
Costs:
Composite bonding from £350
Composite veneers from £500 per tooth
Porcelain veneers from £1,100 per tooth
Dental crowns from £1,200
Dental fillings from £150
9. Tooth many teeth
Causes:
Congenital genetic disorders
Hyperdontia
Genetic factors
Small jaw
Treatments:
Tooth extraction (one appointment)
Cosmetic braces (6-18 months)
Invisalign aligners (7-12 months)
Costs:
Tooth extraction from £150
Cosmetic braces from £2,000
Invisalign from £1,500
10. Extensive plaque build-up
Causes:
Gum disease
Poor oral hygiene
Crowded teeth
Treatments:
Dental cleaning, root planning and scaling (required first)
Porcelain, composite or gingival veneers to close gaps between teeth
Cosmetic braces or Invisalign to treat crowding (3-12 months)
Costs:
Hygienist appointments from £65
Dental veneers from £500 per tooth
Invisalign from £1,500 / cosmetic braces from £2,000
Read more: