These days the 'ideal' when it comes to stunning smiles seems to be set around the "Hollywood Smile" that often consists of perfectly straight unnatural-looking teeth set between full plum lips.
However, achieving successful results and smile makeovers with your dentist in one of our practices in London, Hertfordshire and Essex has never been easier until now. Also, you are now no longer restricted to the Hollywood smile, you can now opt for a more natural looking smile that actually suits your face and mouth. Click here.
If you are looking for improved and enhanced solutions for your smile and are looking for help in dentistry, then Perfect Smile can do just that. The key to achieving successful smiles is producing a result that is not confirmative to the ideal, but to the way your specific situation indicates. See what we can do.
Dr. Rahul Doshi our former principal dentist and founder at our surgery has an immense passion in combining the art and science of dentistry. This allows him to produce beautiful and stunning smile makeovers using various techniques and systems depending on individual requirements and needs. This is the secret to successful smile makeovers. Find out more.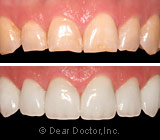 We are also faced with people wondering whether or not they can benefit from treatment. See: Smile Makeover Gallery. For this reason, we developed the following self-assessment to help you determine whether or not cosmetic dentistry is right for you.
Determine whether you are suitable for a smile makeover
Do you avoid smiling in public or for photos?
Are you self-conscious about spaces and gaps between your teeth? Read more.

Do your teeth make you look older than you feel?
Have you ever held back or restrained a smile?
Do you feel that your teeth are stained or yellow? Click here for a solution.
Do you hold your hand in front of your mouth when talking, laughing or smiling?
Do your teeth look old and worn down, making you look and feel older?
Do your teeth appear short because of a "gummy" smile? Find out about gum reshaping.

Are your teeth crooked, chipped or crowded?
Do you wish you had someone else's smile?
Could you benefit from our dentists expertise?
If you answered, "yes" to one or more of the above questions, then you could benefit from a smile makeover. However, that is the easiest part of the process.
The next step is the one that probably matters the most —scheduling a consultation with us. During this appointment, you can discuss the specifics that bother you about your smile using your responses from our self-assessment test. Discover our care assessments.
You can also learn about the many treatment options available for providing you with the smile of your dreams. There are in actual fact numerous treatments that fall into the category of a Smile Makeover and can provide solutions to problems such as:
• Want a better-looking smile. There are many options such as Immediate Veneers, Lumineers, Ultrathin Veneers, Durathin Veneers, and the more traditional techniques.
• Gaps. This can be corrected using techniques involving Dental Implants, Smile Makeovers, Bridges, Dentures and Snap-on-Smiles.
• Crooked Teeth. Here we can opt for orthodontic treatments such as 6-Month Smiles, Invisalign, Clear braces and traditional techniques or restorative treatments such as smile design and smile makeovers.
• Discoloured Teeth. You can opt for teeth whitening treatments if you are suitable or veneer work.
• Worn Teeth. Here we would consider restorative options that restore your ability to eat and chew comfortably and also super-impose enhancements on this.
• Old unsightly failing crowns and fillings. A new smile makeover with veneers and crowns can be considered.
• Too much gum showing when you smile. This can be easily corrected with many of the modern laser treatments.
The choices are a great many and it is often difficult to understand which option is right for you. We at The Perfect Smile Studios understand this and so have designed an assessment program that will give you all the answers you are looking for.
Our signature assessment allows us to understand in intricate detail all your concerns and requirements. It also highlights all the areas of your mouth that are detrimental to your foundation. We help you and give you advice of how to re-build that foundation back to health and durability and then subsequently equip you with all the information and assistance you need to produce your desired outcome when it comes to smile makeovers.
Related Posts
The saying "a picture is worth a thousand words" takes on a new meaning on your wedding day.
You'll be smiling a lot on your wedding day, and naturally, you want your smile to be at its absolute best!
There are many ways we can work with you to ensure your smile (and you) steals the show on your wedding day.
Great looking teeth tends to increase your self-confidence because it is the one aspect you show off to the world and the most looked at part of your face.
Having that knowledge that your teeth look amazing follows through into supporting your self-esteem and hence self-confidence.
In fact, cosmetic studies have shown that a whopping 89% people seek out cosmetic smile enhancements in order to increase physical attractiveness to increase their self-esteem.