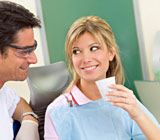 As much as we enjoy seeing patients every day, we recognize that not everyone looks forward to visiting the dentist. In fact, according to recent studies, 75% of those surveyed have at least some fear of the dentist. And 10 to 15% of people have such a large fear that it prevents them from seeing the dentist at all! Fear of the dentist can affect whole families' healthcare.
Don't let anxiety get in the way

Are you anxious about dentists? Rest assured that our ultimate goal is to help make you feel relaxed and comfortable during your appointment. What formerly seemed like a frightening ordeal should become a relatively pleasant experience.
One of the ways that we may help you is with sedation dentistry. This involves using oral medication to help relax you and give you peace of mind so that you can experience your dental visit in a whole new way.
Sedation Will help you to relax
If you're interested in sedation options at your next appointment, we will first ask for your complete medical history to check for any conditions that may bar you from taking certain medications.
Before Sedation we need to check the following:
what medicines you are taking
how often you drink or smoke
what you eat
determine the right medication for you
Another appeal to oral medication is that it does not require injections. We will either ask you to swallow the pill or place it under you tongue, so that it is absorbed more quickly into your system. Typically, the drug will take effect anywhere from 20 minutes to an hour.
You should never be forced to compromise your general health or dental health because of anxiety. There are a number of other options available to those who fear the dentist, and we will be more than happy to discuss them with you.
Perfect Smile Studios offer sedation options to our anxious patients. Call us on 01992 552115 to see how we can help you
Related Post
Being afraid of the dentist is a well-known phobia.
People may have real phobias or may have had bad experiences in the past or when younger which are now preventing them from seeking help.
Common aspects of a visit to the dental practice would be fear of the dental injection or disliking the sound of a dentist drill.